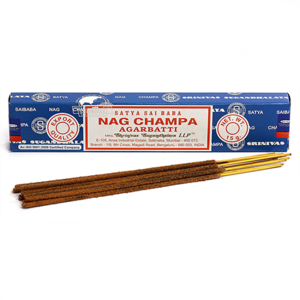 SATYA Nag Champa Stick Incense 15g - This is the Authentic & Original Nag Champa. It's the #1 selling incense in the World! Introduced in the early 1970's this extremely popular incense quickly became the scent associated with the Metaphysical, New Age, Yoga, & Occult movement over the last 4 decades.
This familiar scent instantly transports you to a place filled with love & good vibes. These sticks are made from a mixture of top notch herbs, floral extracts, & oils, which are then expertly hand rolled onto bamboo sticks. Then allowed to dry to perfection.
Hundreds of millions of sticks have been burned since it's introduction. There's a reason this amazing incense has lasted this long & people continue to buy it in droves.
Each package contains 15g worth of sticks, which is usually around 15 sticks. Each stick burns approximately for 35 to 45 minutes depending on conditions & the scent lingers in a space for hours afterwards.