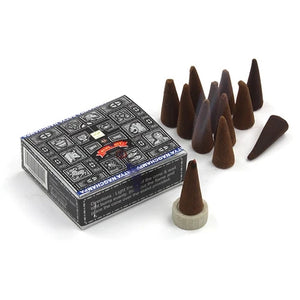 SATYA SuperHit Cone Incense 15g - After the creation of the extremely popular Satya Nag Champa in the early 1970's, the parent company expanded into making a few other flavors of incense to bring to market. Thus SuperHit Incense was born!
SuperHit is much like the original Nag Champa but it has a bit more oomph to it's unique scent. It's one of the top selling packaged incenses at Hocus Pocus & it's one of the first scents that hit most people when they first come into our shop - since we burn it throughout the day inside & outside the shop.
Created in the same method as Nag Champa SuperHit Cones are made from a mixture of top notch herbs, floral extracts, & oils, which are then expertly hand rolled into a cone shape. Then allowed to dry to perfection.
Each package contains 12 cones & stone burner. Each cone burns approximately for 35 to 45 minutes depending on conditions & the scent lingers in a space for hours afterwards.