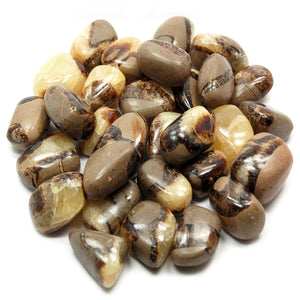 Septarian Tumbled - A new favorite! Septarian is comprised of three different gemstones: Aragonite (the brown parts), Limestone (the grey parts), & Calcite (the yellow/golden parts). They are often called Dragon Stones or Dragon Eggs, but are not to be confused with the green stone called Dragon Jasper.
Septarian is a powerful dreamwork stone that helps you have more vivid dreams! Keep on your bedside table, place a piece under your pillow, or place a piece inside a Gemstone Cage to wear around your neck while sleeping. Be sure to keep a sleep journal next to your bed & write down ANYTHING that you remember as soon as possible upon waking! This is also great stone to help you if you suffer night terrors, nighttime anxiety/panic attacks, or nightmares (combine this with another stone like Lepidolite, Amethyst, or Moonstone to amplify this effect).
Septarian can also assist you in entering deeper meditative & trance states. Place a piece in your hand during meditation to first provide grounding. From this place you will allow yourself to become more centered. Then from this state of relaxation, you will begin to release tension from your body & being - allowing yourself to free your mind to focus on meditative energies.
This amazing stone well help you feel more centered & connected with the Earth. It helps to awaken the Kundalini which aids in activating a deeper, more profound Spiritual Journey & Path. It does this in an appropriate & gentle fashion as to not overwhelm you & your energy centers/Chakras.
Septarian is an excellent stone for public speaking & should be carried by anyone needing to speak their truth in front of others. It gently awakens the confidence needed to accomplish such endeavors. It can also help you to captivate an audience & good their attention.
Septarian will also help you to shed away from the old ways of being, the things that you have outgrown.  It gently encourages you to embrace newer pursuits & energies. This release from the fear of change can have drastic effects on your overall energy & wellness.
Physically Septarian had been used to help ease painful joints & muscle problems, fatigue/weakness, night terrors, & anemia.
Chakra: Root Chakra
Astrology Sign: Taurus
Size: .75" to 1" inch
Please Note: color & size vary among individual stone.