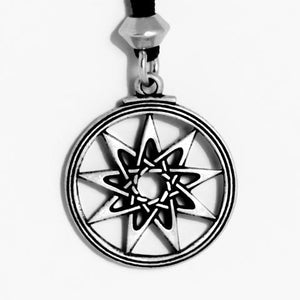 The Ninefold Goddess Talisman - Goddesses & Female Spirits abound in groups of Nine: The 9 Muses of Classical Greece, The 9 Morgans of Celtic Paradise, & the 9 Moon Maidens who created the Scandinavian Gods.
According to Kabbalah, the Moon rules the number 9; representing the Dark, Passionate Female Nature. Our Original Design reflects the changing light of the Moon & enriches the illusions, thoughts, & dreams of the Female Nature, allowing expression of your Romantic, Intuitive Artistic self.
Our Star is composed of a single, unbroken line, resulting in a Protective enclosure which represents Spiritual Protection facilitating Good Spiritual & Physical Health.
9 also corresponds to the 9 Worlds of the Norse Myth which lie within the Magic of the World Tree "Yggdrasill."
The number 9 is considered Sacred because the digits of every multiple of 9 add up to 9…. 2x9=18 [1+8=9], 3x9=27 [2+7= 9], 4x9=36 [3+6=9], Etc.
Wear this Ultimately Feminine Magical Amulet & Invoke the Mysticism & Power of all the Goddesses.
These designs are found in various Magical Grimoires taken from private libraries. These talismans are carefully chosen for their great powers & correctly prepared using the traditional methods of great age known only to a few skilled craftsmen.
Use your Magical Planetary Talismans with Goodness & Wisdom as they are very powerful.
Necklace is 1.5" inches diameter. Made of lead-free pewter.