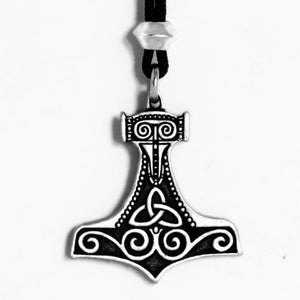 Thor's Hammer Talisman (Small) - Of all of the symbols in Norse mythology, Thor's Hammer (called Mjöllnir) is one of the most historically important, & is probably the best known today.
Thor was the indefatigable god who guarded Asgard, the celestial stronghold of the Aesir, the main tribe of gods & goddesses in Norse mythology. The giants, the forces of chaos, were often trying to destroy Asgard & kill the Aesir, & it was Thor's task to prevent them from doing so.
The hammer was his primary weapon. It was no ordinary hammer; whenever Thor cast it at an enemy, it returned to his hands like a boomerang.
Thor was the god of the storm, & thunder was perceived as being the sound of his hammer crashing down on his foes. It should come as no surprise, therefore, that the Old Norse name for his hammer, Mjöllnir, probably meant "Lightning."
Thor's Hammer is a powerful Instrument of Blessing, Consecration, & Protection.
These designs are found in various Magical Grimoires taken from private libraries. These talismans are carefully chosen for their great powers & correctly prepared using the traditional methods of great age known only to a few skilled craftsmen.
Use your Magical Planetary Talismans with Goodness & Wisdom as they are very powerful.
Necklace is made of lead-free pewter.