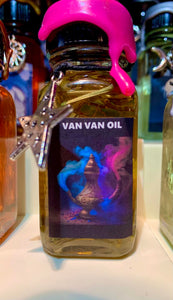 HOCUS POCUS VAN VAN OIL
One of the Oldest New Orleans main staple Hoodoo oils. This Oil is highly multi-purpose. It brings success, clears obstacles, cleanses, banishes evil, protects, brings luck, prosperity, love, draws money, so much more!
Van Van is often used to set wrongs right again. It turns bad luck into good luck and is especially helpful in righting your energy equilibrium whenever Mercury in Retrograde twists things around.
Also used to cleanse & consecrate new magical & spiritual items. Anoint candles, Mojo bags,self, amulets & talismans, good luck charms, etc..
Combine this with one of our Magickal Votive Candles or one of our Magickal PIllar Candles for an extra potent BLAST of powerful energy into your life!
Size: 1 oz bottle
DO NOT INGEST/CONSUME THIS PRODUCT! KEEP OUT OF REACH OF CHILDREN & PETS. SOLD AS A CURIO PRODUCT.