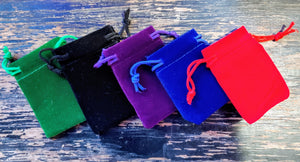 Velvet Pouches - These make perfect small Mojo Bags! Add one of our Root Magick blends to a bag to create an awesome little Mojo Bag for whatever you desire. These can also be used to carry Gemstones/Crystals or to safely keep your Pendulum when it's not being used.
We even use these to make anti-nightmare Mojo Bag necklaces by placing an entire packet of our Blue Dream Rice into a Blue or Purple Bag. Then we tie the top a few times to keep it closed. Then we place a string or silk cord over the top of the bag. We then tie the bag onto the string & voilà - you have a nice super simple Mojo Bag necklace to wear when going to sleep at night.
This is a Curio Item.