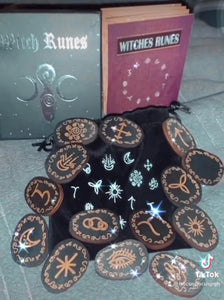 Wooden Witches Runes Set
These make a super cool gift! Or a gift for yourself! Great way to read, plus a great add-on to your tarot readings! Do you ever require a little more clarity at the end of a reading? Pull out a few Witches Runes to clarify & pull it all together!
These are hand carved & hand painted wood. They feel GOOD in your hands. And wood absorbs your vibrations, so they will be humming in no time! We are huge fans of them! And they come with an explanation book too! Don't pass this one up! It's a great gift for any person who's into Divination!
Size:
 13 Wooden Witches Runes with instruction manual, bag, & tumbled Selenite for charging