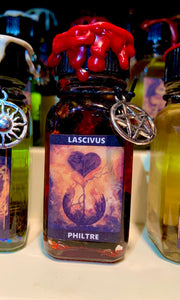 HOCUS POCUS LASCIVUS PHILTRE OIL
/ləˈsɪv.i.əs/  /fil′tėr/ - Oil for the Conjuration of Lust. Anoint oneself, candles, bed sheets, clothing, cards, letters, etc.. Burn in an oil diffuser for a lust-filled night of romance & sensuality!
Combine this Oil with our Love Pillar Candle, Soul Mate Pillar Candle, Return To Me Pillar Candle, Lust Pillar Candle, Passion Pillar Candle,  Venus Pillar Candle, Binding PIllar Candle, &/or our Love Spell Incense, &/or our Love Spell Spiritual Bath, &/or our Love & Lust Mystic Myst Spray. 
Size: 1 oz bottle
DO NOT INGEST/CONSUME THIS PRODUCT! KEEP OUT OF REACH OF CHILDREN & PETS. SOLD AS A CURIO PRODUCT.