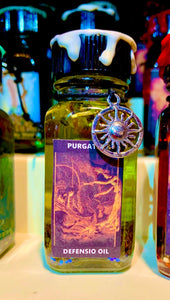 HOCUS POCUS PURGATIO & DEFENSIO OIL

/Purgātio/ /De:'fen.si.o:/ - Powerful oil for cleansing, defense, & protection for yourself & others. This powerful blend is also able to be applied to items, homes, vehicles, doors, windows. Place a few drops in bath water or anoint yourself/others. Anoint candles to purify & protect dwellings.etc.. Also use to purify your magickal tools. Great to wear when going into unpleasant situations to protect yourself from negative energy.
Combine this with one of our Stone & Herb Pillar Candles, Spiritual Cleansing Magickal Votive, Protection Magickal Votive, Evil Eye Magickal Votive &/or our Spiritual Baths like: Purification & Protection Spiritual Bath, The Shield Spiritual Bath &/or one of our Ritual Incense Blends like: Fiery Wall of Protection Incense, Banishing & Purification Incense, or Protection & Warding Incense to boost your effectiveness.
Size: 1 oz bottle
DO NOT INGEST/CONSUME THIS PRODUCT! KEEP OUT OF REACH OF CHILDREN & PETS. SOLD AS A CURIO ITEM.