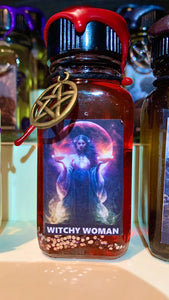 HOCUS POCUS WITCHY WOMAN OIL
This much loved & highly popular Magickal Apotheckary blend has been added to our new Materia Conjure Line of Oil. Add a high powered octane boost to your Witch game. Awaken self-empowerment, heighten sensuality & feminine prowess. Be the Goddess!

Combine this with one of our Love's Enchantment Magickal Votive Candle or our Witchy Woman Spiritual Bath for an extra potent blast of Witchy Woman in your life!
Size: 1 oz bottle
DO NOT INGEST/CONSUME THIS PRODUCT! KEEP OUT OF REACH OF CHILDREN & PETS. SOLD AS A CURIO PRODUCT.