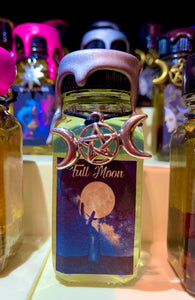 HOCUS POCUS FULL MOON OIL
This Oil was made, consecrated, & left to charge during the Full Moon. Use it during the Full Moon, & anytime you require Full Moon Energies in your life.
The Full Moon represents action, completion, self-expression, creativity & abundance. It's used for intention setting, divination/intuition, achieving spiritual growth, creating/renewing protection, promoting strength & power. The Full Moon's divine feminine energy provides for love, truth seeking, peace & balance.

Apply to 3rd Eye for dream workings - especially during the Full Moon. Anoint oneself & others to empower & invoke lunar energies within. Lightly anoint your magickal tools to give them a power boost of lunar energy. Use this Oil anytime you need to heighten any kind of divination skill.
Anoint candles, use in an oil diffuser (NOTE: Essential oils & cats don't mix well. Avoid diffusers if you have cats.), use a few drops in Lunar Ritual Bath. Mix this with our Full Moon Pillar Candle, our Full Moon Incense or Divination Incense, &/or one of our Spiritual Ritual Baths.
Size: 1 oz bottle
DO NOT INGEST/CONSUME THIS PRODUCT! KEEP OUT OF REACH OF CHILDREN & PETS. SOLD AS A CURIO PRODUCT.